The HSH method is more than a dressage schooling – it is based on an integrated understanding of the horse. In my opinion schooling is first of all brain work. We have to bring to consciousness what is unconsciously present; that is, the movements the horse shows in freedom, when it is out in the field. The HSH method combines esprit Francais and a little bit of German-Prussian discipline.
In former days
The methods by which we school our horses generally are more than 100 years old. In the course of time they have become more and more violent.
Do we know what the horse is feeling when the hard bit of steel which functions like a nutcracker presses on the tongue and on the bars?
We suppose that the horse understands immediately the massive influence of the rider. That's so wrong! How often is this the beginning of a lifelong aversion against the bit and the hand of the rider and by this reluctance or even resistance to be on the bit.
However: There is an alternative!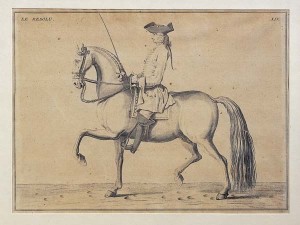 "Vive la difference". The lightness, "légèretè"– riding without any strong influence of the hands is the aim we have to go for when riding. For the basic schooling Fritz Stahlecker has developed a padded schooling bridle. Without the weight of the rider, and without the bit, the young horse learns by playing. Its mind is asked for not as much as its body and therefore it learns without resistance or tension.
The horse is motivated for extreme performance. If you prefer aesthetics and creativity instead of drill and force you will find that this method might show you the way.
My matter of concern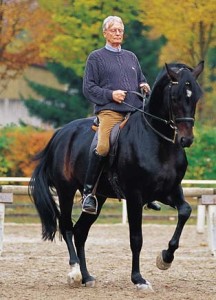 "We don't realize – in our present society where fun counts above all – how often we use violence when dealing with the horse – we don't even know where the beginning of violence is. Almost all errors and misunderstandings in the schooling of horses come from violent treatment. The educated rider is asked wherever it is possible to go against any manifestation of violence."