With the HSH method you can do work in hand with the young horse as soon as the age of 2 ½ and school the most difficult dressage movements – without stress, by playing, and taking into consideration the latest aspects of modern sports psychology.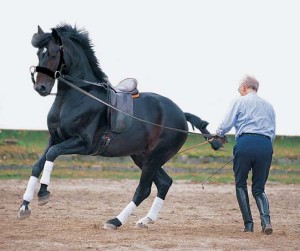 With the HSH method Fritz Stahleckers gives his personal answer to the present situation in dressage riding. He wants to show an alternative to the training and riding methods which are practiced nowadays and which in his eyes are becoming more and more rude facing the pressures of performance. However this method is a way of schooling a horse which those practicing riding for leisure can also apply successfully up to a very high level.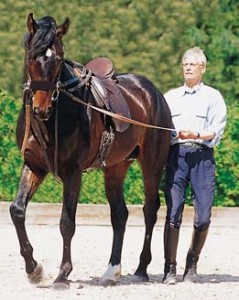 Questions you should ask yourself:

– How can I achieve my aim without putting too much strain on the horse?

– What should the trainer do in order to get voluntary cooperation and putting the horse at ease? Without force the "cavalier reflechi" (the rider who asks himself about what he is doing) attains his goal within the same period of time and even by better means.

HSH means also to question the traditional rules and scoring methods. HSH wants to offer a platform for discussion. Riding dressage first of all implies brainwork and should be based onthe rules of art.